High speed Reel Change System TAC
The automatic Reel Change System TAC is characterized by an automatic reel change onto cores prepared with adhesive tape. The rectangular cross cut is done by a serrated knife. The knife is either loaded pneumatically or by an electromechanical pre-loading system. Depending on the design a web speed of max. 600 m/min (2000 fpm) is possible, where the solid design combined with minimum wear ensures a high production efficiency.

At a max. web speed of approx. 150 m/min (500 fpm) a core preparation with only one straight strip of adhesive tape is sufficient. A spiral wrapping of adhesive tape around the core - as conventionally done - is not necessary. This easy core preparation is achieved by a special control system which actuates the cross cutting knife in a way, that the leading edge of the new web always is positioned exactly onto the adhesive tape. The result is a perfect start of the new reel combined with saving of adhesive tape.


The Reel Change System TAC can be mounted either from top or from below in order to wind the face of the web alternatively inside or outside of the reel. To reach highest flexibility in the production process, the winder can also be equipped with one top and one bottom mounted Reel Change System TAC.
Video sequence of the reel change
If the video is not played properly after clicking the play-button, please install the latest version of the Adobe Flash Player, which you can download here for free: (external link):

Execution examples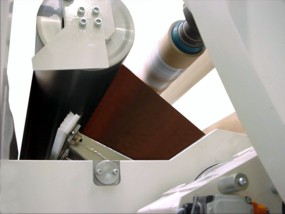 Roll Change System TAC short before cross cut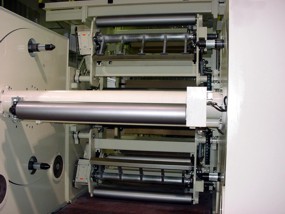 Arrangement of two Roll Change Systems TAC within one machine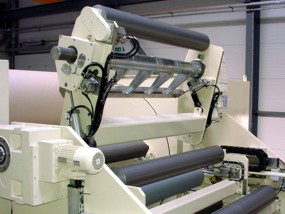 Upper Roll Change System TAC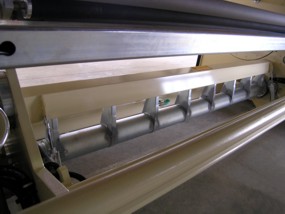 Lower Roll Change System TAC