Via Frankfurt airport
The airport Frankfurt is the largest airport of Germany with many international and intercontinental connections. All relevant information about Frankfurt airport you will get here:

Frankfurt airport (external link)
By
car
you will reach Hameln from there within approx. 3.5 hours.
By
train
there is a high speed train connection to Hanover and from there a suburban train connection to Hameln.
Continuation by
Towards Hameln...
After you have left the airport area take the Autobahn A5 in the direction of "Kassel" and "Hannover". At the Autobahn intersection "Hattenbacher Dreieck" go on the A7 towards "Kassel" and "Hannover".

Leave the Autobahn at the exit "Northeim-Nord" and turn right on the B3 towards "Hameln/Einbeck/Northeim".

At "Elze" take the B1 towards "Hameln".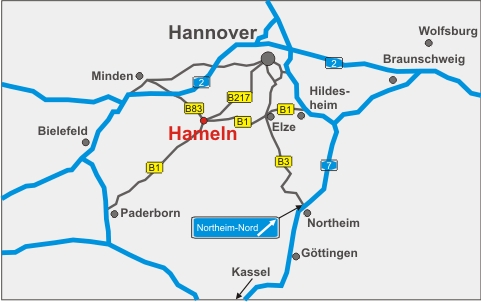 In Hameln...
In "Hameln" turn left in the district "Afferde" in the "Hastenbecker Landstrasse" in direction to "Hastenbeck".

After approx. 2 km (1.2 miles) turn left in the street "Freibusch" of the industrial area "Hastenbeck Nord". SOMATEC is located at the end of this street on the left.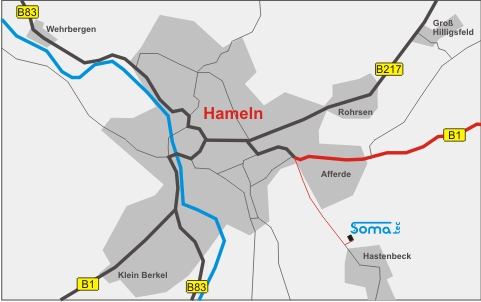 Route planner
Here you can get your directions to SOMATEC with Map24 (external link):
Download of the directions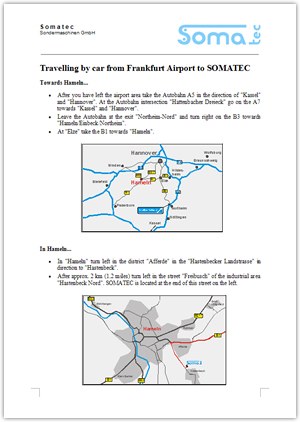 Directions to SOMATEC by car
from Frankfurt airport PDF (42 KB)
Continuation by
From the Frankfurt airport there is a direct ICE-train connection to Hanover central station. From there you can reach Hameln by the suburban train line S5. The total traveling time is approx. 3.5 hours. The ICE-trains are running hourly and the suburban train are running half-hourly. The exact time tables and further information you will get here:

Travel service of the Deutsche Bahn (German Railways; external link)