04/05/16
10 years at SOMATEC
On April 1st, 2016, Alexander Sohns and Frank Jonas celebrated their 10th aniversary at SOMATEC.
Alexander Sohns is a mechanical desiger and he also is responsible for edjucation at SOMATEC, as Frank Jonas as General Sales Manager takes care about all sales and marketing activities. Both of them started their jobs on April 1st, 2006, at SOMATEC. Since then they developed sucessfully in their corresponding jobs.
On the occasion of this double jubilee a small ceremony was held, where General Manager Günther Kuhlmann gave thanks to both of them for their dedicated cooperation up to now and he wished all the best for their future at SOMATEC. Following both jubilarians invited all colleagues for a hot meal in SOMATEC's break room.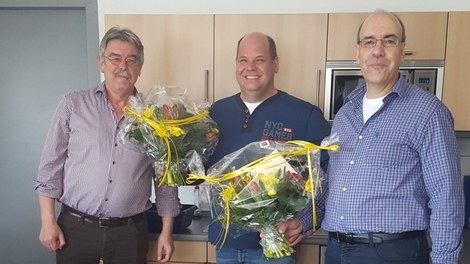 General Manager Günther Kuhlmann with the jubilarians Alexander Sohns and Frank Jonas